Bilal Zaka #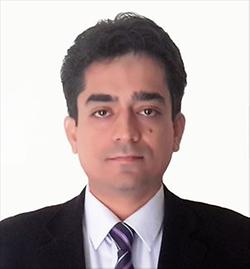 Bilal Zaka, Ph.D. is a veteran IT professional with over 17 years of experience in industry and academia. After his M.Sc. in electronics he started his professional career as network administrator to get hands on experience of hybrid LAN/WAN technologies.

Bilal kept close association with a number of academic institutes/Universities working in permanent and visiting faculty capacity. His diverse professional affiliations not only gave him an opportunity to observe and work with latest technology, but being part of education and research environments allowed him to investigate and experiment with ICT aspects which otherwise is not possible in pure industrial setups.

Bilal managed an offshore consultancy venture with Eletel Inc. USA. He headed a team of developers in Pakistan who worked on Callex VoIP product range for mobile devices. Besides the regular offshore software development activity Bilal provided consultancy services to a number of ISPs.

Bilal seeing a challenging career joined COMSATS Institute in 2001. He worked at different teaching and administrative positions in CIIT. Bilal is among pioneer members of the institute who established the communication infrastructure and MIS software for academic management.

Bilal earned HEC's overseas scholarship for PhD studies in 2005 and proceeded for higher studies in Austria. Bilal joined Institute for Information Systems and Computer Media (IICM, now ISDS) at Graz University of Technology Austria. Bilal worked on a number of industrial projects working under the supervision of Prof. Dr. Hermann Maurer, and Prof. Dr. Frank Kappe. Bilal's PhD thesis covers similarity checking techniques investigated and developed in various industrial projects. These industrial projects include Personalized Interactive Newscast (PINC), Collaborative Plagiarism Detection Network (CPDNet), Geographical information Systems. Bilal authored his research work in peer reviewed journals, edited books, and presented his work at several accredited international conferences.

Bilal rejoined CIIT Pakistan in 2009 after completion of his PhD degree in Informatics. In his capacity as General Manager IT at CIIT he architected the central information management system (CUOnline) running at 8 campuses of the institute. Bilal proposed and launched the operational model of CIIT Virtual Campus in 2011 and launched an IT enabled distance education program from CIIT platform.

Bilal is heading the IT Services Unit at COMSATS Institute Islamabad. He is also providing support and consultancy services to Higher Education Commission of Pakistan as permanent member of Technical Committee and SMART University Project review committee. Bilal also remained active contributor in framing IT enabled distance education policies for HEC.

He also recently (2017) completed a WorldBank funded project of IT Systems and security auditing at National Testing Center Tajikistan. Bilal received 12th TARADATA National IT Excellence Award on 18th of May 2014 for Excellence in IT Enabled Services.

Bilal Zaka got his Ph.D. 2009 at Graz University of Technology and has been working on aspects of Austria-Fourm ever since. He spent summer 2018 again in Graz with Austria-Forum and is very much engaged in working on a new version of Web-Books with new interfaces and functionalities, to be released Fall 2019. He will also offer a research seminar together withprofessor Maurer fall-term 2019/2020 on often ignored aspects of WWW.
---
Contributions to global-geography.org as member of its Consortium#
Bilal Zaka is essential in improving the technology of Austria-Fourm, particularly the Web-Books. He also contributes to information on Pakistan directly and indirectly, Indirectly by inviting H. Maurer for a keynote at the major yearly computer symposium in 2016 and by making it possible that the student Haris Naeem collected quite a few pictures and stories on Pakistan as follows:
Pictures#
Stories#